About 10 months ago, I pinned
this recipe
to my
Pinterest board
. It looked yummy so I decided to make it for New Year's Eve.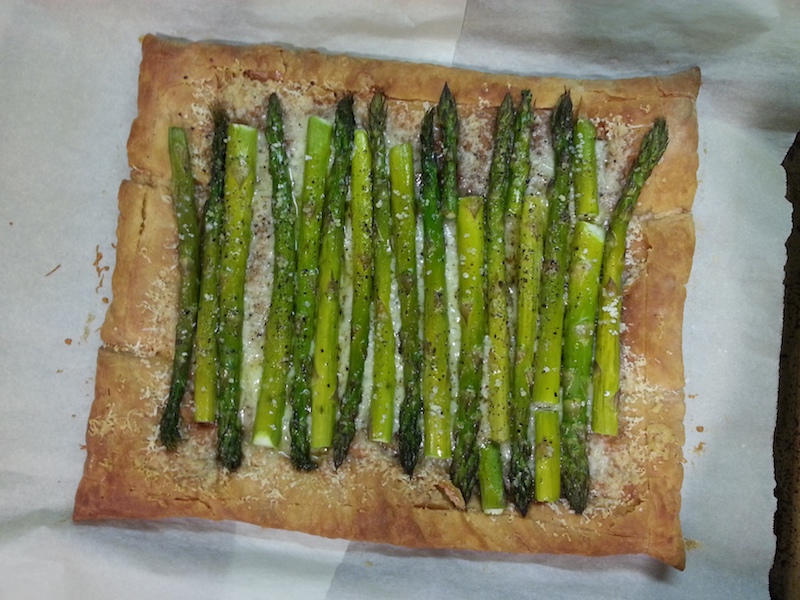 It was delicious! I'll definitely make this again sometime. One thing I'll do differently though, is add a little less salt. The cheese is already salty, so the asparagus doesn't need much salt added to it.
Asparagus Gruyere Tart
Ingredients:
Flour, for work surface
1 sheet frozen puff pastry
5 1/2 ounces (2 cups) Gruyere cheese, shredded
1 1/2 pounds medium or thick asparagus
1 tablespoon olive oil
Salt and pepper
DIRECTIONS
STEP 1
Preheat oven to 400 degrees. On a floured surface, roll the puff pastry into a 16-by-10-inch rectangle. Trim uneven edges. Place pastry on a baking sheet lined with parchment. With a sharp knife, lightly score pastry dough 1 inch in from the edges to mark a rectangle. Using a fork, pierce dough inside the markings at 1/2-inch intervals. Bake until golden, about 15 minutes.
STEP 2
Remove pastry shell from oven, and sprinkle with Gruyere. Trim the bottoms of the asparagus spears to fit crosswise inside the tart shell; arrange in a single layer over Gruyere, alternating ends and tips. Brush with oil, and season with salt and pepper. Bake until spears are tender, 20 to 25 minutes.
NOTE: Thaw puff pastry according to package instructions.
Emmentaler or Fontina cheese can be substituted for the Gruyere.
After the 1st bake, let the puff pastry cool a little, that'll allow it to fall if it has puffed up. I gently helped it down by pushing on the top of the tart oh so very carefully, so as not to break the tart. But I mostly let it fall by itself. It may not have puffed as much if I had made my folk piercings deeper.
I didn't bother trimming uneven edges. It seemed even enough to me after rolling it out.