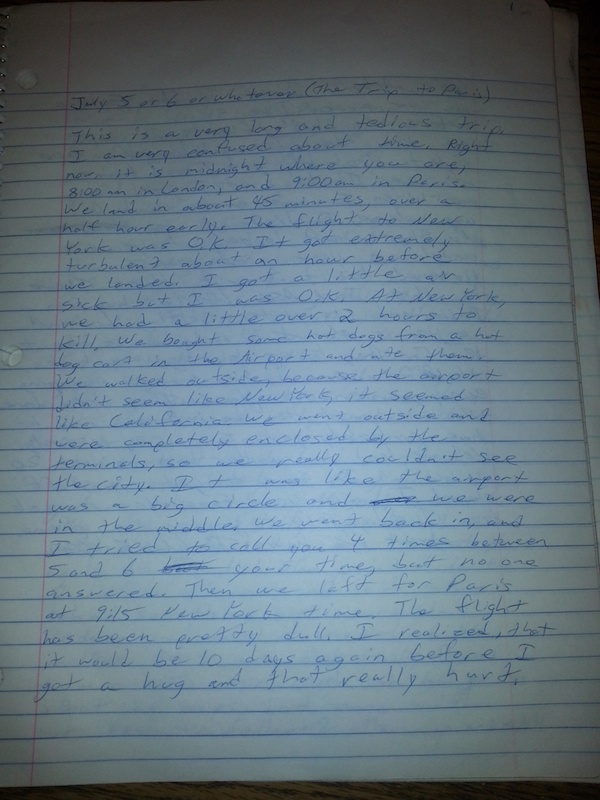 I mentioned
recently
that Jimmy and I sent lots of letters and cards to each other in the first two or three years of dating. Reminiscing over these momentos makes me love him even more.
Here's what the letter said so you don't have to strain, if you're interested:
July 5 or 6 or whatever (The Trip to Paris)

This is a very long and tedious trip. I am very confused about time. Right now, it is midnight where you are, 8:00am in London, and 9:00am in Paris. We land in about 45 minutes, over a half hour early. The flight to New York was O.K. It got extremely turbulent about an hour before we landed. I got a little air sick but I was O.K. At New York, we had a little over 2 hours to kill. We bought some hot dogs from a hot dog cart in the Airport and ate them. We walked outside, because the airport didn't seem like New York, it seemed like California. We went outside and were completely enclosed by the terminals, so we really couldn't see the city. It was like the airport was a big circle and we were in the middle. We went back in, and I tried to call you 4 times between 5 and 6 your time, but no one answered. Then we left for Paris at 9:25 New York time. The flight has been pretty dull. I realized that it would be 10 days again before I got a hug and that really hurt.