I haven't shared any of my Project Life pages since
the beginning of March
, so I thought I'd take a moment to update on how it's going. Mostly for my own record-keeping. For me, it's a way to make sure the simple every-day things are accounted for. Sure, we all remember the major events in our lives, but the little things are important, too. So truthfully, all of this will be completely boring to anyone reading this. But it's what makes me me and my life my life.
Here's a quick rewind of Weeks 7-37: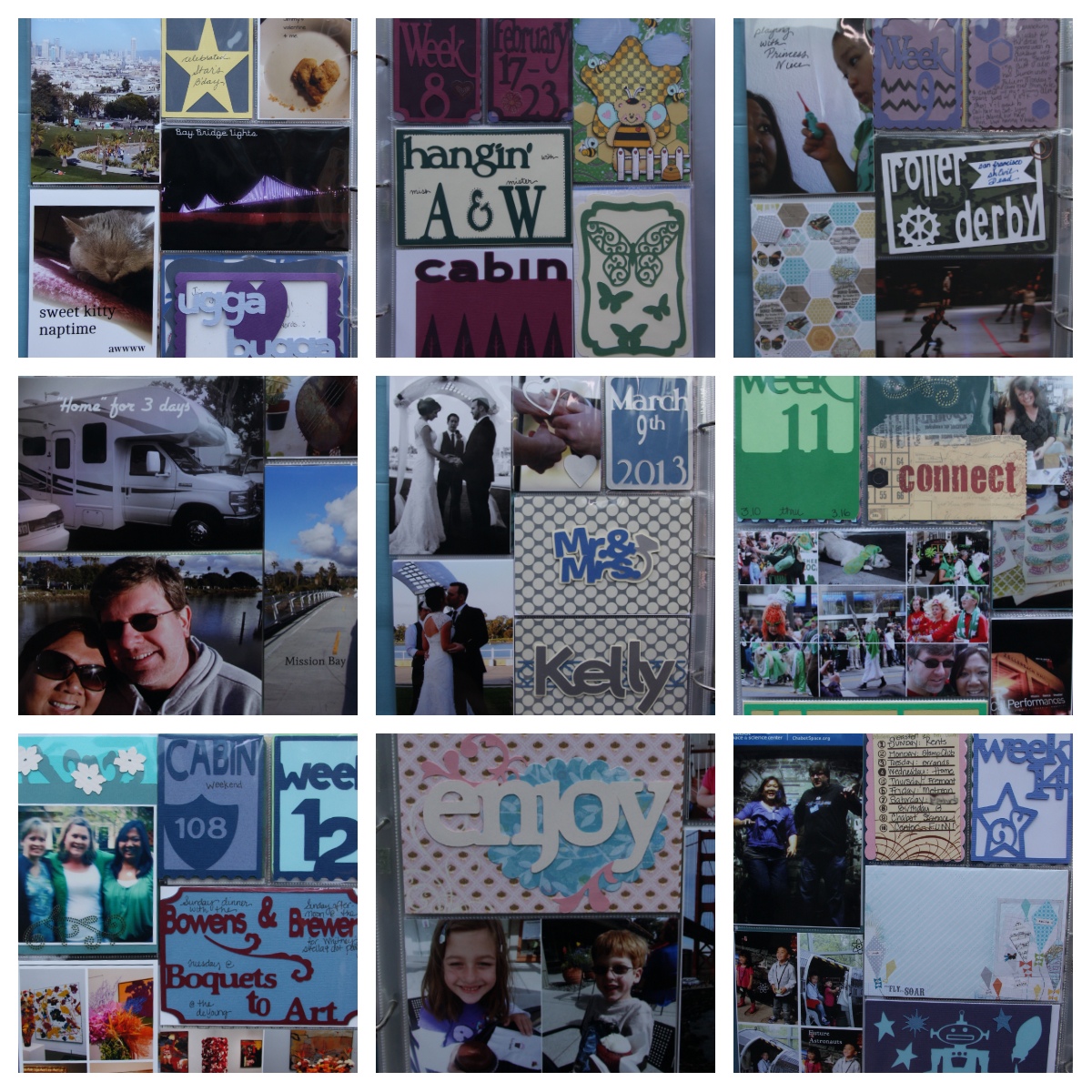 Week 7: Valentine's Day. My SIL's bday. Lunch with my other SIL near Delores Park. Bay Bridge Lights were turned on.
Week 8: Spent some time with the Bowen kids and Cousin and her kiddos then the weekend at the cabin.
Week 9: A day with Cousin and her kiddos, weekend watching roller derby with Jimmy. One of his co-workers is a skater.
Week 10: Went down to San Diego for oldest niece's wedding.
Week 11: St. Patrick's Day parade with Jimmy, met up with an artist friend while she was here for a show, went to a dance performance in Berkeley with my SIL.
Week 12: Hanging out with the Bowens and the Brewers. DeYoung Museum. Cabin time.
Week 13: Cupcakes with the baldwins. Also (not pictured) Cousin's mom in town, explore SF with the whole family.
Week 14: Ninja Nephew's birthday party.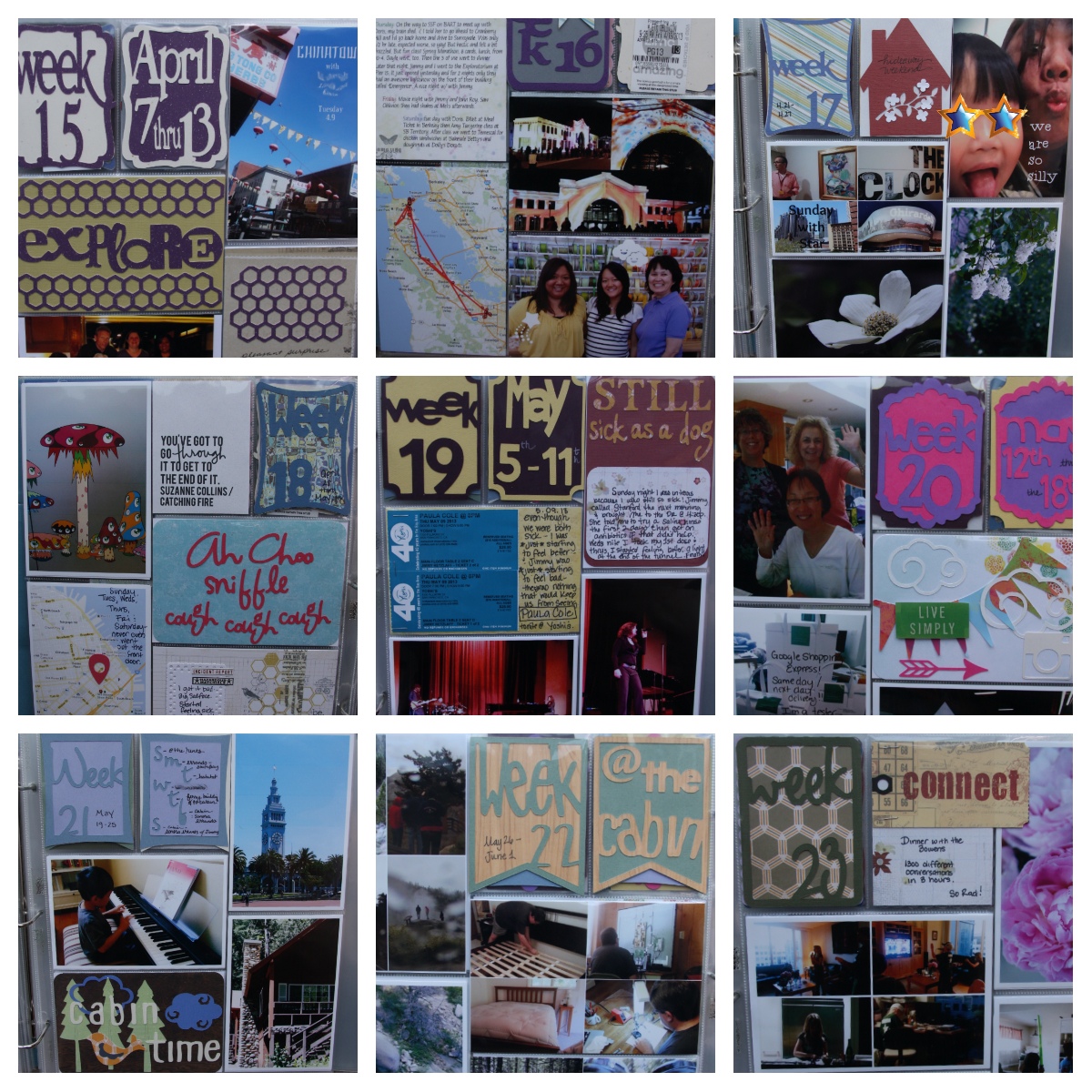 Week 15: Chinatown with family. FIL's birthday dinner at Benihana's. Dinner with a friend I haven't seen in over 5 years.
Week 16: Class in Berkeley with
Amy Tan
and card 'marathon' with Doris in Sunnyvale. The new Exploratorium opened this week! Movie nite with Jimmy and John Roy.
Week 17: Went to SFMOMA and lunch with SIL. Silly time with Princess Neice. Hideaway weekend.
Week 18: Oh.My.God. So very sick.
Week 19: Both of us Still So.Very.Sick but had tickets to see Paula Cole at Yoshi's so tried really hard not to cough on anyone. We had front row tickets so at least no one was in front of us except Paula.
Week 20: Still sick. Yikes. Doris took that photo of my friends because I couldn't go to our monthly get together. So sweet.
Week 21: Finally feeling better. Visited Ninja Nephew and Princess Niece. Cabin weekend.
Week 22: A whole week at the cabin. Lots of work to do! But we managed to go out for a couple of rides on the Rhino, too.
Week 23: Time with the Bowen family and my cousin's family this week.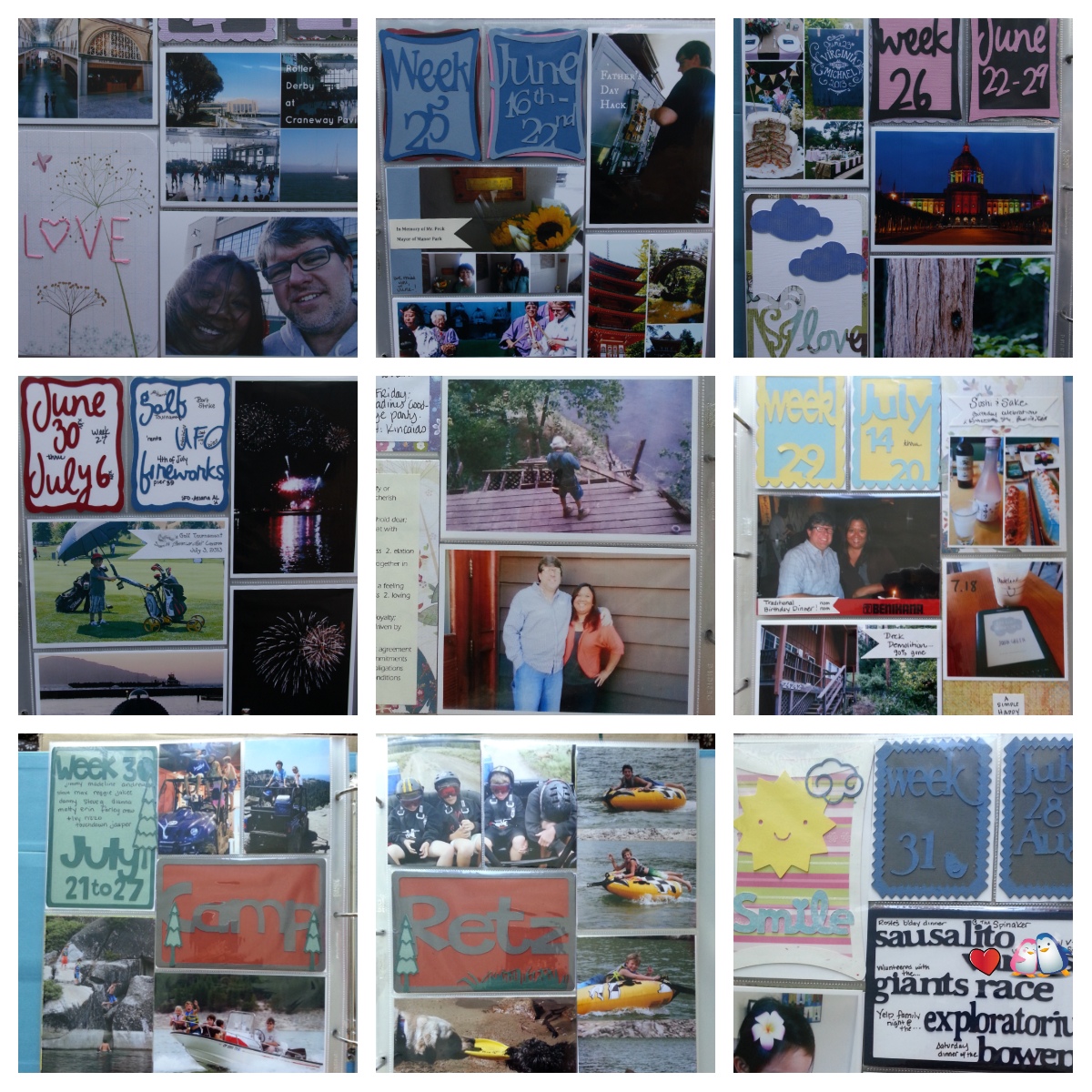 Week 24: Roller Derby night at Craneway Pavillion in Emeryville.
Week 25: Father's Day at the 'rents. Visited Mr. Peck's memorial at Washington Park. San Mateo Buddhist Festival.
Week 26: Mike and Virginia's wedding at Golden Gate Park (awesome!). Marriage equality! Cabin weekend.
Week 27: 4th of July. Ninja Nephew's golf tournament.
Week 28: Early bday celebration at Kincaid's with the family. The deck is finally being torn down! Cupcakes with the Baldwins.
Week 29: Sake and Sushi bday dinner w/ family. Benihana bday dinner w/ Jimmy. To the Cabin.
Week 30: Camp Retz week at the cabin!
Week 31: MIL's bday dinner in Sausalito. Volunteering with the Giants Race. A couple days with cousin and kiddos. Saturday dinner with the Bowens. Yelp family night at the Exploratorium.
Week 32: Our microwave broke! ugh. But my handy-man took it apart and fixed it! He even had the part that broke, which isn't something he normally has. Pretty cool. My hero! :)
Week 33: Ninja Nephew and Princess Niece came over for a few hours and they loved playing with my crafting tools! Bad Kitty birthday card for Jimmy from his Mom. Hilarious!! Monica and her son were here for 3 1/2 days!!!
Week 34: Our weekend at the cabin ended up being a bit of a nervous time because of the Rim Fire. Thankfully, despite the 256K acres burnt, our community was ok. It's still burning, over 4 weeks later.
Week 35: Heart Concert at America's Cup Pavillion. Turned out that Jason was there, too! We saw his check-in on Yelp so we met up with him and chatted a bit.
Week 36: The new span of the Bay Bridge opened! We crossed it the night it opened after the initial crowds died down. Friday night in San Jose with the family.
Week 37: Kiddos here for a few hours. Celebrated Jeff's birthday with all the Purple Magma friends. Another wildfire, this one near the parentals. Thankfully it was contained within 5-6 days.